A Final Look Back at 2015!
Kulanu, Inc.
Supporting isolated and emerging Jewish communities around the world
If you have made a donation recently, thanks so much! And if you haven't, there's still time before the end of the year! Please also consider sharing this with others who may want to support Kulanu's work. All giving up to $10,000 will be matched by the Bella and Stella Foundation!
December 30, 2015
Dear Friends,
I want to start by wishing a happy start to 2016 to you! I hope you and your loved ones have a good start to the secular new year.
What a wonderful year it has been for KULANU. We have so many memories and accomplishments to share and it is our hope to continue our work to help isolated and emerging Jewish communities around the world.
That's where you come in. Your financial support will make it possible for Jewish communities in Brazil, Colombia, Ecuador and Guatemala to grow, and for African Jewish congregations in Kenya, Ivory Coast, and Madagascar to come into their own. Kulanu is reaching out to Poland and India as well, and continuing our work in Zimbabwe and Uganda – all thanks to you.
I give much thanks to Kulanu for their beautiful continuing support to my Kasuku Jewish community in Kenya. Kulanu donated a computer to make Jewish study online easier and to help us connect with new friends around the world. A tuition donation promises that next year our kids will go to school.  -Yehudah Kimani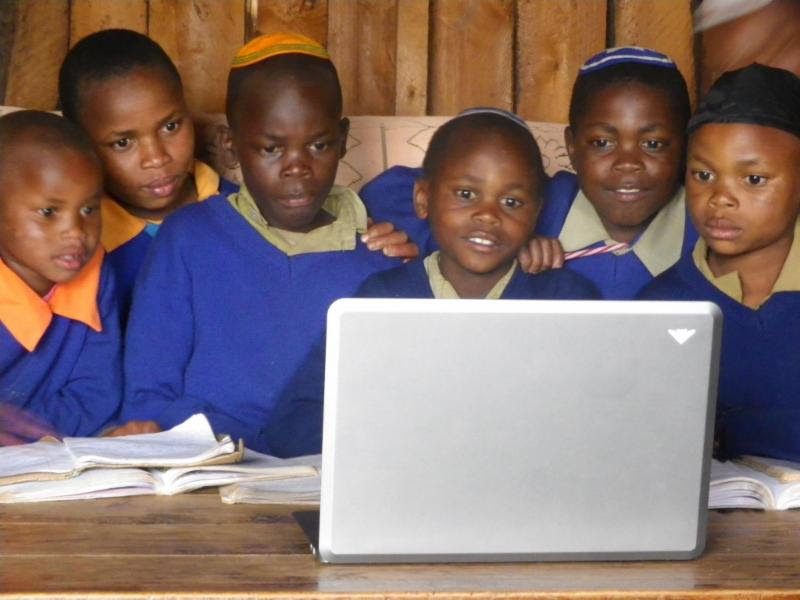 Photo Courtesy of Yehuda Kimani
Children in Kenya enjoy the computer in their village.
There are so many more young people like Yehudah, and thanks to support from people like you, Kulanu will be able to partner with many more. Please visit www.kulanu.org/donate to give online.
Kulanu Highlights, 2015:
Torahs donated by Congregation Kehilath Jeshurun in Manhattan's Upper East Side and Temple Emanuel in Franklin Lakes, NJ were distributed to communities in Sao Paulo, Brazil and an Abayudaya village in Uganda.
Kulanu gave five "mini-grants" to needy Jewish communities in Guatemala, Peru, Brazil, and Ecuador for: machzorim, siddurim, tefillin, a mikvah and a bima.
Kulanu volunteers traveled to Zimbabwe, Kenya, Madagascar, Nigeria, India, Papua New Guinea, Nicaragua, Colombia, and Brazil to meet community members, to teach, and to bring donated books, Judaica items, and computers, and to assess Kulanu involvement.
The Kulanu-Lemba Speaking Tour 2015 was a great success, as Modreck Maeresera, leader of Harare Lemba Synagogue made eighteen appearances in fifteen cities across the United States and Canada and raised awareness about his inspiring community, its 2500 year old story, and the renaissance of African Jewish life in Zimbabwe.
With Kulanu's support, leaders from Cameroon, Nigeria, Uganda, Guatemala, and Zimbabwe traveled outside their communities to take advantage of Jewish learning and leadership development opportunities at Rabbi Shlomo Riskin's Ohr Torah Stone yeshiva in Israel, Florida International University Global Jewish Studies Program, Birthright Israel, Brandeis Collegiate Institute near Los Angeles, summer camps in Georgia and Massachusetts, the Federation of Jewish Mens' Clubs, and the WRJ (Women of Reform Judaism) Assembly 2015.
In Uganda, Kulanu donations paid for running two schools, including the schools' breakfast and lunch program, students' successful participation in the National Music, Dance, and Drama Festival, a "Mama in the Schools" program, conferences of the Abayudaya Women's Association, a new computer lab for the elementary school, a deaf education program, and water well repair. Kulanu served as fiscal sponsor for a major grant to the Kavule School for the Deaf.
The Harare Lemba Synagogue, which Kulanu helped to establish in Zimbabwe last year, continues to grow and thrive, assisted by excellent volunteers who worked alongside the Lemba community and taught various subjects for several months this past year. Construction continues on the synagogue in the countryside with funding from Kulanu and labor by the community.
We continue to utilize the Internet to further our mission, funding Internet access to connect isolated communities with social networking and online learning, and sharing photos and videos (www.youtube.com/kulanuvideo,www.kulanu.phanfare.com). This year we produced a short video about Kulanu's work, and collaborated with filmmakers making films about our communities in Ghana, Cameroon, and Ethiopia. We also helped launch the new Kulanu Academic Cohort to enhance our collaboration with scholars.
Thank you in advance for your gift. Thanks to you, Kulanu is able to welcome emerging Jewish communities in the most isolated places on the globe. 
Thank you so much for your support of Kulanu, Inc. and Jewish communities around the world!
Sincerely,
Harriet
Harriet Bograd, President
Kulanu, Inc.